Larry's style is the result of a classical
upbringing and musical education colliding
headlong with barbeque, fried chicken,
gospel music, the blues, jazz, rock and funk.
He studied at the University of Hartford's
Hartt College of Music performing with and
under the direction of such notables as
Aaron Copeland, Isaac Stern, Leonard
Rose, and with soloists from the New York
City and Metropolitan Operas. This should
have led the young Dutch immigrant down a
more conservative path.
Kansas City is what happened to Larry van
Loon. From front porch sit-downs to the
improvisations of the famous KC jam
sessions, Larry sought exposure from all
sides of the city's musical heritage. Still,
back in the late 70's, the town was a virtual



© Copyright 2012
www.cjvaughn.com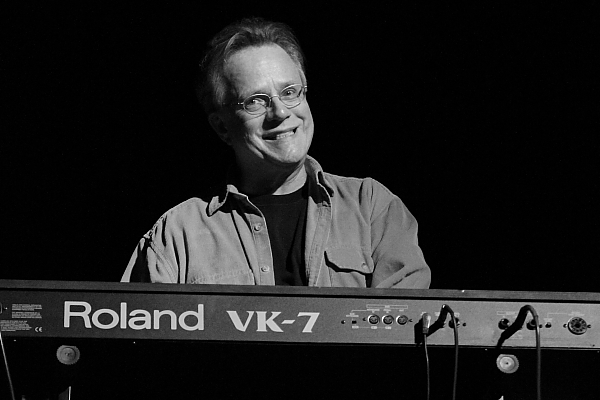 desert when looking for the blues. So Larry played 'em to packed houses every night. His group evolved into the Kansas
City Blues Band which recorded and toured during the 80's. And the blue monday jams that he co-hosted for many years
in Old Westport not only had great vitality but great influence as well on the newly re-emerging Kansas City blues scene.
When you're loaded for musical bear like that, what do you do? Well, you hit the road, and share the stage with legends
like Muddy Waters, B. B. King, Willie Dixon, John Lee Hooker, Bobby "Blue" Bland, Buddy Guy, Martha Reeves, Jay
McShann, Gregg Allman, Air Supply, The Winans, The Mighty Clouds of Joy, and Oleta Adams to name a few. Larry
added to this musical soup extensive tours with blues brother Matt "Guitar" Murphy, and mixed in a touch of organ work
for Bo Diddley, Son Seals, A.C. Reed, Lee Oscar, Wayne Cochran, and Al Green. He also performed exclusively original
material for several years with the house band at a fondly-recalled KC landmark club, "The Tuba". The end result? One
very special singer/songwriter ready to find a place where his roots could take hold.
Nashville is the musical nest that Larry has found. He has performed in some of this city's most notable venues, from the
Grand Ole Opry, the National Folk Festival, the Jefferson Street Festival and the CMA Festival, to B.B. King's and
Bourbon Street, and co-written with some of it's finest, such as Ronnie Dunn of Brooks & Dunn, and Steve Earle. He is
active in the studios and creates in the digital domain using software such as Reason and ProTools.
He has appeared and/or recorded with talented and distinguished members of the musical community such as Bonnie
Bramlett, Steve Cropper, T.Graham Brown, Kelley Hunt, Johnny Neel, Jo-El Sonnier, Jimmy Hall, Anson Funderburgh,
Kim Wilson, Miranda Louise, C.J. Vaughn, The Nashville Blues Society, Shaun Murphy, The Kansas City Blues Band,
Marion James, Phase Six, Charles "Wigg" Walker, Nick Nixon and Clifford Curry.
"Come sit for a while on my favorite divan" is the feel Larry lends to a live performance. The Hammond B-3 is the punch
that he serves.